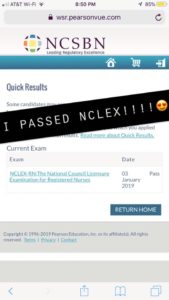 We take a break today from what we've been covering to bring you some news. My daughter Haley passed her NCLEX – to say I'm happy would be an understatement!
I know you don't stop by the blog to hear me brag 🙂 but I figured that I would detail exactly how that she passed.
During School –
As she went over the subjects in nursing school she would review the content in Saunders, answer the questions at the end of the chapter. Again we focused on questions we missed (like we do with our tutor students) to figure out why she missed them. Was it the content that needed to be reviewed, or was it just because that she didn't understand the question.
Each week she would answer at least 100 questions in Saunders – besides the ones that her instructor had assigned for her. By the end of the semester we had answered about all of the questions in the Saunders database.
After school she planned for her test.
She is the type of person that stresses out if people know that she is going to take a test, because it puts added pressure on her. So she made the test date January 3rd, then we made a plan – just like we do for you in our boot camp. She needed some more questions to answer and we had a lot of options. She chose uworld (the 90 day option) and she went to work. https://www.uworld.com/nclex/nclex_rn_home.aspx
She took a couple of days off ( I explained to her / reminded her that the brain is like a muscle… sometimes we have to let it rest). She answered the 2200 or so questions a few days before the test. She did those tests / questions in 75 question blocks. As always she reviewed the questions that she missed.
The day before her test (she didn't study), drove with her mom to the city where the test center was at and checked into the hotel. They drove to the test center. She went to bed early and woke up and took the test (at 8am). She chose that time because that was the time when she had taken all of her tests in nursing school. She had 76 questions and of course thought that she had failed – I told her that she hadn't. A couple of days later she got the results and today she starts work (although she has been working as an Extern for a few semesters).
So take aways –
1. Make a plan – stick to it.
2. Answer questions.
3. If you get discouraged (you will) remember that one day you won't have to worry about the NCLEX EVER again.
4. Social media can be vicious – as the days came close to her test taking, a couple of her students had already taken the test. If that bothers you TURN IT OFF.
5. Stay around positive people.
You can do it. You are awesome.